Multiple parameter control and programming of multiple functions in a Heating, Ventilation and Air Conditioning plant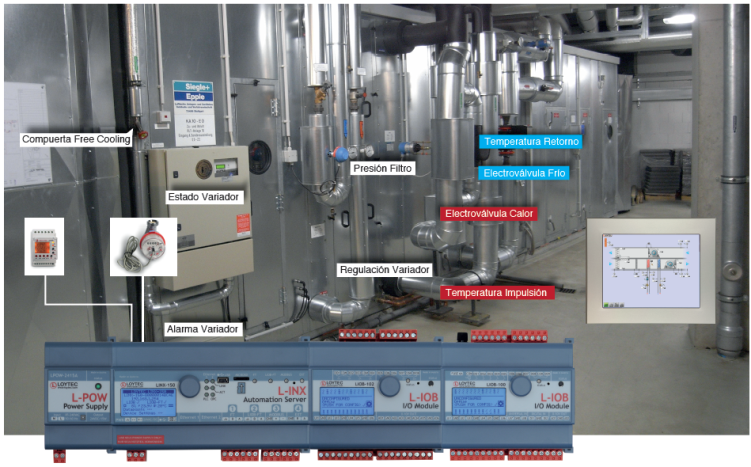 In Heating, Ventilation Air Conditioning control plants of buildings is necessary to control multiple parameters of the chillers and heat pumps. Installations needs lots of temperature sensors, humidity, pressure, among other signals like contacts, valve control, start and stop operations of frequency inverters, pumps, status indicators of machines, etc. All those signals are sometimes digital, sometimes analog, mixed between input and output values that must be treated and controlled by input/output modules and programmable controllers that make any function over the system.
With the LIOB input/output modules and the programmable controllers of Loytec, which include multiple configuration of inputs and outputs, today is possible to manage any kind of installation like the previous one described.
The LIOB modules and programable controllers are available with three type of communication bus or channels like LonMark TP/FT-10 (LonWorks®), LonMark Ethernet IP852 or BACnet/IP, and can be used depending on the configuration of the installation or how it will be integrated. At the same time, the devices are divided in input/output modules or programmable controllers. Finally, every family is available with five different configuration depending on the type of input and output (digital / analog) configuration needed.
With this big product familiy it is possible to control any HVAC plant like the one explained in this application note. Even more when the LIOB controllers include an integrated web server over which any kind of design made screen can be uploaded and used for monitoring and control the plant remotely using any standard web explorer like Chrome, Firefox, Safari or Internet Explorer. But if someone has its own SCADA application, the devices are including an OPC Server XML/DA through which any internal datapoint can be monitored or controlled using a third party application.
Last but not less important, the programmable controller family are including Alarms, Schedulers and Trendings (AST functions) which are used for a complete building automation control. Schedulers are used to switch on/off pumps, the chiller, or any other output at any time, or also changing the setpoint values according to different customer requests. Any alarm can be triggered with the controllers and send it using the internal e-mail notification function. And any temperature, humidity value, or any other value can be monitored and recorded for a further analysis using an specific screen with the internal SCADA application or sending the values with an CSV file through an e-mail to a maintenance address.
The LIOB devices are powerful modules and controllers that can be used for any application where all those functions are needed. The future is the control, the LIOB is the product.